Below is a list of Jane's personalities.
Crazy Jane
Personality
Jane is the dominant personality, though she is not the core one. She tends to be crass, but she does care about Cliff.
Hammerhead
Personality
Standoffish and rude, Hammerhead is always angry about something.
Powers
Enhanced Strength: Hammerhead was strong enough to knock Cliff up a flight of stairs with a single punch.
Sylvia
Personality
Sylvia's voice is demented and warped, which she uses to ward off unwanted interaction.
Penny Farthing
Personality
Penny Farthing speaks with a british accent, and is very timid.
Baby Doll
Personality
Baby Doll is immature and childlike, and has a fascination for superheroes, especially Cyborg. She is evidently not a fan of The Flash.
Silver Tongue
Personality
Silver Tongue enjoys fighting, and is not opposed to killing people.
Powers
Metal Creation/Manipulation: Silver Tongue has the ability to generate sharp metal versions of words she says, and manipulate their forms, such as shaping the word "Underground" into a sword.
Doctor Harrison
Personality
Doctor Harrison is very manipulative, and uses her talent for psychoanalysis to convince people to indulge her insane demands.
Powers
Persuasion: Doctor Harrison is able to use her metahuman charm to manipulate people, instilling ideas that her victims find they must act on. At her peak, Doctor Harrison used this power to convert an entire psychiatric ward to her newly invented

Cult of the Recreator

.
Abilities
Psychoanalysis: Doctor Harrison is adept at observing people's behavior, and from that concluding what trauma they have endured, which she can then use to manipulate them.
Charisma: Doctor Harrison is a talented and charismatic leader who is able to form a cult at the mental hospital.
Lucy Fugue
Personality
Lucy Fugue has an echoed voice, and seems to be aggressive.
Powers
Electrokinesis: The personality Lucy Fugue has the ability to generate and manipulate electricity.
Flit
Personality
Flit is shown to be impatient and angry, and has no qualms with killing.
Powers
Teleportation: Flit is able to teleport between locations and can bring others with her. The exact limits of this power are unknown but Flit was able to teleport from the United States to Paraguay with little effort, indicating that distance is not an issue.
The Hangman's Beautiful Daughter
Personality
The Hangman's Daughter is spacey, and enjoys painting.
Sun Daddy
Personality
Sun Daddy doesn't seem to have much of a personality, though she does often wreak destruction.
Powers
Pyrokinesis: Sun Daddy can generate and throw balls of fire.
Enhanced Durability: Sun Daddy was able to withstand an attack from

Celsius
Flaming Katy
Personality
Katy is very aggressive, and does not like being interrogated.
Powers
Pyrokinesis: Katy can generate and throw bursts of fire.

Flight: Using her fire blasts, Flaming Katy is able to fly.
Karen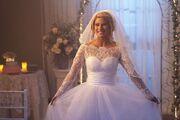 Personality
Karen is obsessive, particular over two things, Romantic Comedies and a man named Doug. Karen is a ditz, though she is very possessive of Doug.
Powers
Affection Manipulation: Karen has the ability to force feelings of affection in people, ranging from romantic love to just friendship. This ability seemed to not work on Cliff, likely due to his robotic physiology.
Scarlet Harlot
Personality
Scarlet Harlot is a very lustful personality.
Spinning Jenny
Personality
While dominant, Spinning Jenny only screamed and slammed her hands into her head
Unknown Wall-Crawling personality
Powers
Wallcrawling: The unknown wall-crawling personality is able to cling to walls, allowing her to stick to roofs or climb to great heights.
Mentioned Only Personalities
Personalities that have, to date, only appeared on the map of the underground include:
The Signal-Man
Stigmata
Driver 8
Liza Radley
An unknown Red-Headed girl
The Sin-Eater
The Snow Queen
Mama Pentecost
Bizzie Lizzie Borden
Driller Bill
Kit W'the Candlestick
Jack Straw
Pretty Polly
Merry Andrew
Rain Brain
Blood of the Lamb
Jill-In-Irons
Lady Purple
K-5
Bubble
Black Annis
Miranda
Jeann
The Weird Sisters
No One
The Pointman
Pepper's Ghost
Sex Bomb
The Secretary
The Shapeless Children